Las Vegas Real Estate
Genting Group To Build Mega Resort on 87 Acres on Las Vegas Strip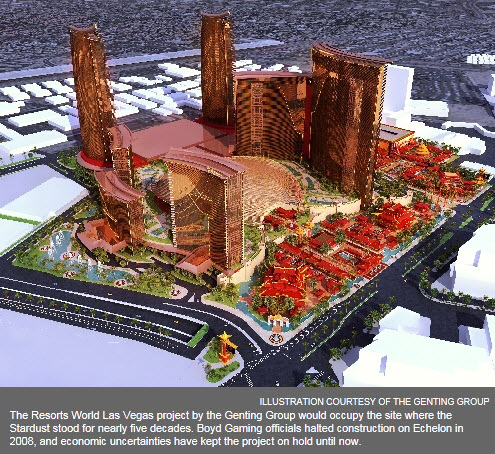 New Construction - Projects in The Works
The Genting Group will announce this acquisition today and outline their plans for a $2 Billion hotel and casino resort on the Las Vegas Strip. Las Vegas assumed that it would be a decade before a major resort of this magnitude would be built.
The first phase will include 3,500 rooms and 175,000 square feet of casino. For every room that is built, 3 to 4 people are hired. The plans for the first phase could result in over 12,000 jobs!
Genting realizes the growing influx of Chinese and other Asian tourists to Las Vegas. Genting plans to start construction by 2014 on a new multi-billion-dollar casino called "Resorts World".
The 87 acres are at a bargain price at $500 Million since the price is among the lowest in a decade for Strip property. In July 2007 an acre of land went for nearly $34.7 million. This price is $4 Million per acre.
Building Boom - Emerging From Recession
The building boom on the Strip featured projects like the $8.5 billion City Center. Then the recession hit and construction of mega resorts like the Echelon came to a halt. Las Vegas is slowly emerging from the recession.
Last year construction picked up when over $3.6 Billion was invested into Las Vegas Attractions. Last month, SBE Entertainment began a $400 million renovation of the Sahara. The new Boutique style hotel casino will be called SLS Las Vegas.
Resorts World Las Vegas is expected to open in 2016 with multiple restaurants and dining options, along with 250,000 square feet of retail, more than 500,000 square feet of convention space, a theater and outdoor pool amenities.
Last week Resorts International MGM announced that they are going to build an arena. All of these projects mean more jobs and more tourists which will continue to spur the Las Vegas economy.